These battery boxes have two large reinforced shelves to help support camera controllers, timelapse equipement, regulators and even the heaviest of batteries.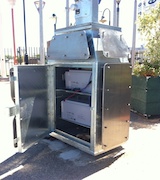 With the added cooling benefits of vented side panels and aluminium heat shields, your batteries will last longer even in the toughest of conditions.
Click here to view detailed drawings of the Battery Box or contact the office on (08) 9446 8044 to find out more information on this fantastic product.